Due to its ideal position Puerto Galera makes an excellent destination for anyone who enjoys Trekking, Canyoning, Kayaking and Mountain Biking.
We also organize tours to the many beautiful beaches and islands in the vicinity and excursions to visit the different tribal villages of the Mangyan people, the native inhabitants of Mindoro
Canyoning
Our mode of transport to visit the numerous waterfalls on Mindoro will be the traditional Jeepney, the most common form of public transportation in the Philippines, most of them are colorfully decorated.
On the way to our destination we will see the way of life of the rural people engaged in harvesting rice, fishing and other agricultural activities.
Once at our destination we make our descent of the waterfall using only first class equipment, observing the highest safety standards.
After the descent we can enjoy a cooling swim in the natural fresh water pool and of course be ready to sample the food freshly cooked on the grill before the Jeepney returns us to the resort.
Canyoning is virtually for everybody. We will choose waterfalls that match the skills of the members of the group
Kayaking
Kayak excursions are always varied and exciting.
The route to our destination leads on dirt
roads through remote areas, giving the
opportunity to visit native tribes,
travel through rice fields and
tropical forest and even
to cross suspension
bridges.
Most rivers are
easy to manage
whilst others will
provide more of a
challenge to the more experienced canoeist.
Whatever the skill level required, you will be
always surrounded by thick vegetation rich in
coconut palms, mango trees and banana plants.
Along the course of the river we will meet
groups of women washing clothes at the
river and men on bamboo rafts conveying
agrarian products to the nearest market.
At the end of the river a Jeepney or boat
is waiting to take us back
to the resort
Trekking & Motor Biking
The island of Mindoro is approx. 180 km long and
80 km wide, the interior is mountainous and
covered with forest beyond 600 m. There
are many secluded coves to be discovered
and inland, rivers, rapids and
waterfalls to be experienced.
Situated at the back of
Puerto Galera are
Mt. Malahimbo (1080 m)
and Mt. Halcon (2581 m),
both covered with thick
vegetation. At the foot
of the mountains,
different Mangyan tribes
cultivating rice, corn and
various kinds of fruits like
rambutan, banana and guava.
They also raise buffaloes, pigs,
chicken etc.
In order to explore the remote off-road
areas we organize trips on 200cc motor bikes
or mountain bikes. Even a short walk within the
vicinity of the resort leads to very picturesque scenery.
Giuseppe will show you the most interesting spots
Beach Tours
The area surrounding
Puerto Galera has many
beautiful, unspoiled and
secluded beaches to offer.
There are hidden bays
and sparsely populated
islands for you to
discover.
After breakfast,
the days itinerary is
discussed by all and choices
made based on activity
preferences, weather
conditions etc.
Within an hour's
walk of some beaches
there are waterfalls and
native Mangyan villages to visit.
Between swimming, diving, snorkeling
und sunbathing there is time for a delicious lunch
with grilled fish, rice, salad and fruits – all fresh from nature.
Late afternoon we return to the resort where skilled masseuses
will help relax you and restore your skin with homemade coconut oil
Adventure
map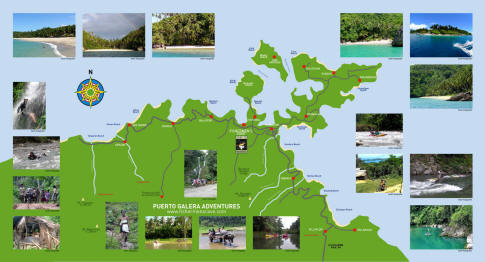 more pics
more pics
more pics
more pics